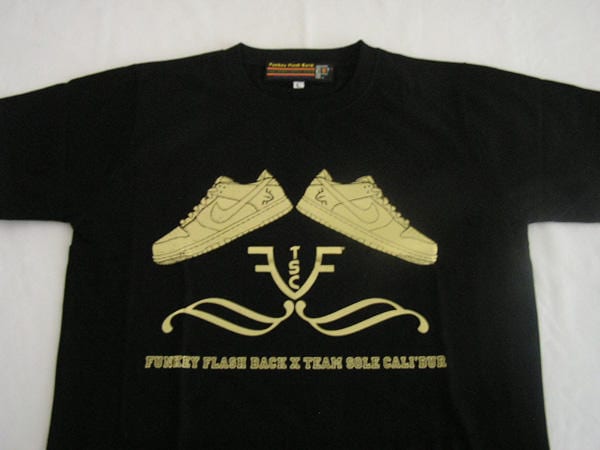 Hiphop is niet alleen een naam, het is een lifestyle. Het het gebruik van vrolijke kleuren fleuren de designers van het Amerikaanse Funkey Flash Back deze universele levensstijl wat op. Het merk heeft zijn zinnen nu ook op de Europese markt gezet, en HIJS is natuurlijk de eerste Nederlandse organisatie die de eigenares Sher Sher aan de tand voelt (tekst: Engels).
How did you get into designing and how did you develop your skills?
The concept started back in 1993 amidst a kitchen conversation between my parents and I. I always had love for clothes and sneakers and new one day that this is something I really would like to do. My skills were developed by trial and error, as I never attended a design school.
What was the moment that was really the turning point in your life, as far as deciding where to go in the professional world?
This happened 2 years ago when we finally decided we would bring Funkey Flash Back to life. I had tried other areas of business and none of them were as fulfilling as what I am doing now.
Tell me more about your affinity with hip hop and why you decided to marketed your work to that specific market segment.
Since I was very young I always had love for hip hop. It was always so intriguing…the lifestyle and the fashion. Hip Hop represents me as an individual, it is what I grew up on defines many areas of my life. So therefore, with the love for hip hop developing an apparel line was definitely the direction. I figured the people I see on stage I could style these people with my ideas and that dream is coming true.
How did you come up with the name Funkey Flash Back?
Honestly, my father came up with the name. It means just what it says, we have a modern appeal with an old school feel. You can never forget where it all started and we definitely keep if "FUNKEY".
How would you define Funkey Flash Back's signature style and unique selling points, in what way do you differ from other designers?
Our signature style is that we are unique and we use very bold colors to capture ones attention. The major fact is that we are a leather design line and most lines that do leather keep it simple and plain in the colors. We are not afraid to explore with colors. FFB represents "The colors of life", which means the colors used in our designs bring people to life. You feel better when you are wearing a beautiful, bold color rather than brown or black. Our collection is completely a high quality and high end line as well. You will not find us in every store, only high end boutiques and retail stores.
What does the process look like of you designing apparel that is appealing to you as well as the target group?
Well, for one thing we do not follow trends. When I am designing I could really careless as to what is currently on the market. FFB has its own style! I am a female designing men's apparel so it becomes more of what would a man look really hot wearing and from there the imagination runs wild.
You designed apparel for several hip hop heavy weights and R&B artists, including Juelz Santana and Ginuwine. How did you get your first big break into the urban industry?
It is very hard work and you have to have perseverance. In this industry it is all about knowing the right people. Someone that knows someone else that can connect you to the right person and that is how it took place.
Who would you say is the most interesting person you've gotten the chance to work with?
Everyone we deal with on the daily is quite interesting. Whether they are a celebrity or just an average person.
Do clients come to you with detailed requirements for customized designs or do they just give you carte blanche?
Some clients have been coming to us with detail requirements but many of them will give you a freehand to do what you like because they know your capabilities. They will just say add your touch and do what you think is best and we just work it from there.
What are your long term goals in the fashion industry?
For Funkey Flash Back to be the Rolls Royce of the fashion industry. We are not a fly by night company we are here for longevity. There will be other branches of the line to breakdown into…Homme, Femme, Streetwear and our current line the Urban. Open FFB flagship store locations. Run our own manufacturing plant and we can do it all in house. Teaching the youth that are interested in entering the fashion industry. The list can go on and on but these are key goals.
What things do you have on your plate now and in the future?
On our plate right now, we are getting ready for a fashion show to take place in less than 2 weeks that Azzure and Indigo Red asked us to be a part of. Also, there are many upcoming fashion shows, events, interviews and more that are currently being offered to FFB. Currently getting our Spring 07 line developed to be shown at Magic in August. Just giving our customers the best quality and service possible and moving the line into stores that see our long term vision.
For more information, visit: www.funkeyflashback.com
Meer Interviews