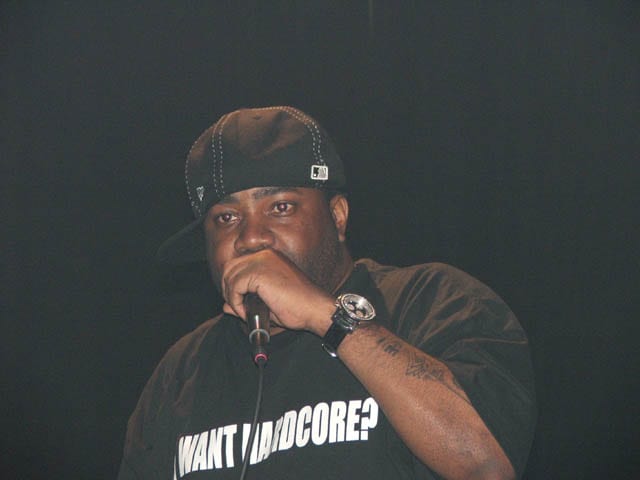 Big L , DITC, the Bronx het kwam allemaal aan bod in de sitdown die we hadden met Lord Finesse.
What was it like growing up in the Bronx? Did you go to a lot of block parties or were you too young to go?
As far as the block jams I caught the best of everything. I saw a lot of different dj's and crews perform, so it was dope. Me, Fat Joe, Diamond and Show all grew up in the same hood, on the same block, Forrest Projects. It's about 10 to 15 minutes from Bronx River (red. de legendarische plek waar de roots van hiphop in de Bronx liggen).
You're known to be a gifted freestyler. Do you still freestyle a lot?
Nah, this tour is like the first tour I did in like 6 to 7 years. I got bored with the rap thing actually. I do the production thing a lot, and I like being in the background. But a lot of people said: "yo Finesse you gotta go out there and tour again man," so I did this tour and hopefully it'll be a stepping stone for the D.I.T.C. tour. Me, O.C., A.G. and Diamond, we're trying to come out here on November 7.
Will Fat Joe be down to do the tour?
You gotta understand Fat Joe is in a whole different dimension. Not that he would mind doing it but the money we get paid to do these shows is fucking nothing. Fat Joe gets paid 5 times what we get paid. So we get 5 to 10, he gets 30 to 50 thousand. So why would I tell him to sacrifice that kind of money to do this little show with us? He's always there for me; we did the Big L tribute, he rocked on my birthday party and we're gonna perform together in the South Bronx somewhere in the summertime. Whatever I ask him to do Joe's always gonna be there but I'm not gonna tell him to sacrifice his money. It would be a cool experience for him though, especially here with the legal prostitution and weed. Niggaz in New York lose their fucking minds out here man!
You're known for your metaphors and similes (red. vergelijking met "like" dus bijvoorbeeld: "Rap without Finesse is like the NBA without Jordan"). Do you come up with them while freestyling or do you think of them before writing them down?
Metaphors and similes come from current events. Everything that happens around me I could put in a rhyme, like "Fuck around take a hard L/ 'Cause I walk around with more hot 16's than R. Kel." It's like telling a joke in a slick way. And I like doing it 'cause it makes the crowd go "ooh" and "aah" and they know it took me a while to think these things up.
Was it a conscious decision to form D.I.T.C. or did it just evolve naturally?
People gotta understand that a lot of groups are just put together and then they do solo shit. Like first you had New Edition and then Bobby Brown and BBD. But with us you had O.C., Fat Joe, Buckwild, Show and A.G., Big L, Lord Finesse that had solo careers and form a group. Do you know how hard it is to get like 7, 8 chefs in a kitchen to cook a recipe when you're used to being in the kitchen yourself (red. nice metaphor, Finesse!)? But yeah, you could say it was a natural evolution being that we were all friends.
I saw you battle Roc Raida in Paradiso back in '97 here in Amsterdam
Oh man, that's a play battle. I can't fuck with Raida! I mean that dude is on another planet man! I know a lot of people was disappointed that he didn't come out here with me. That's why I brought Boogie Blind. I'm not saying Boogie Blind is a Roc Raida but when you see him perform it eases the pain of Raida not being here.
People really appreciated you taking the time to explain why Roc Raida wasn't with you. Because, not taking anything away from Big Daddy Kane, but he was out here and was supposed to form a duo with Raida, but come showtime, Raida wasn't there. And BDK didn't even explain it to the (disappointed) crowd.
See the thing with Raida is he was supposed to tour with Kane, and I was like: "people over in Europe aren't gonna want to see the same routine two times in one month." So he called me and said he wasn't going out touring with Kane so now he could come out with me. And I was like "Cool!" But then he got like 5 to 7 things to do in the States that were important for his career so I understood. Then he told me "Yo take Boogie Blind with you." And I like Blind, after doing a couple of shows in Europe with the X-Ecutioners in Europe earlier in the year. He doesn't get enough exposure, but he is really dope.
So how important is the art of dj-ing to you?
Very important, it helps me with writing rhymes, helps me to stay on point. The art of dj-ing is so significant to the art of music. If you look at some of the greatest producers, they were all dj's; Dr. Dre, Premier, Pete Rock, Large Professor, Diamond, Madlib. Most of these producers were dj-ing. They are so dope at it because they have the love for music. When you have the love for music there's really nothing you can't do as a producer.
When did you get into producing?
I got into producing around '92. I should have got into it earlier but when Diamond and Show got into it I was too busy partying. I used to be a party fanatic, my lifestyle was wild! I mean, I would party from 17.00 to 7.00, go home to sleep, wake up at around 16.00 and do it all again. So i did that for a couple of years and then Show showed me how to work the SP 1200, Jesse West showed me how to work the 950 (red. Akai S950). From there I elevated to the MPC 3000, and now I use the MPC 4000.
How did you hook up with Dre ? (red. Finesse heeft "The Message" op 2001 geproduceerd)?
The Dre hook up happened through Mel Man, Dre's right hand man. We were record shopping in New York City and he happened to be in the same record shop as me. Me and my friends were conversating about music just being the music lovers that we are. And he was like: "Hey that looks like Lord Finesse, but why would he be in an old record shop like this looking for music?" And we kind of kicked it so while he was in New York I showed him around. Took him up to the Bronx and Harlem and just kicked it. Then he went back to Cali and told Dre: "Yo that dude Finesse, he's so real." So Dre said: "Aight, we'll send him a ticket." So I went out there and stayed for like three weeks. Then I went out on the road and got back there. That's when the "Message" song with him and Mary J. Blige happened. That song was on my album, and when he heard that he was like: "Can I get that for my album?," and who am I to tell Dr. Dre: "No, you can't have it." And it's just a blessing to be one of the only outside producers ever to do a track on a Dre album.
Did you stay at Dre's crib?
No I went to his crib though and met his family though. He showed me so much love, treated me like a little brother. So whatever that brotha wants, I'm there for him. And I hope he'll ask me to do a track for the "Detox" album.
I understand the way you met Big L was pretty special?
I met Big L at an autograph signing. So I'm doing this autograph signing and this dude comes up to me and says: "Yo, my man wanna rap for you." First I thought: "Not another one" so I was like, just take it up with my manager. But L's man insists, so I was like: "O.K." Then he rhymes for me and after he was done I wanted his number! And we just clicked from there, I took him in like a little brother and took him everywhere with me. I have footage that's gonna be on a dvd soon where I'm on Yo Mtv Raps and he's in the back chillin' looking like he's still in high school. So that's dope. But I'm proud to be part of his legacy.
What's in the future For Finesse? Any new projects coming up?
Yeah, I got the "Funky Technician" remix project, the Roc Raida project, I'm doing a soundtrack and of course the D.I.T.C. tour.
Thanks for taking the time out to do this interview!
Always man, no problem!
Meer Interviews