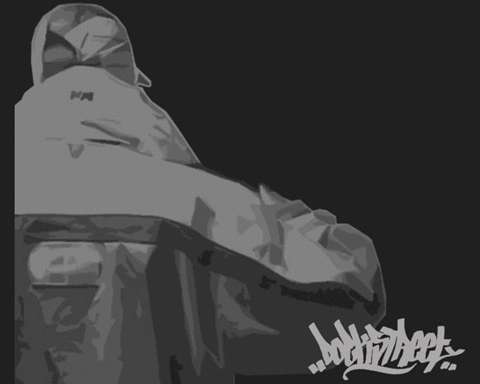 Hiphopinjesmoel support dope hiphop. Vandaar dat toen Dutchman zijn EP wilde droppen, HIJS de ruimte aanbood om het in mp3 vorm te doen. Dus nu valt hier een 5-tracks tellende EP vol met rauwe beats en scherpe lyrics te downen.
Profile
MC: DutchMan
Representin': Rotterdam
Level: Unrated
The story
Born in a suburb of Vlissingen (Flushing), tha Nethalands, DutchMan grew up and God blessed him with a natural talent: MCing. Listening to hiphop back in the days he seeked for a deeper ground which led him to the world called UnderGround. As hungry he was he wanted to express himself in the same form his examples (Wu-Tang, Gang Starr…) did that time. That's why he started MCing in 1996 over existing instrumentals. Other peeps from his neighborhood had the same interest, combining forces they created the click called "SouthWest Connection" (SWC). Within that network he was the frontman of Microphone Killaz (MKz) consisting of 4 MCs. The first independent work from SWC hit local record stores in 1999 with tracks from MCs out of DutchMan's region.
DutchMan himself dropped one solo track (Hip Hop Survivalist) and two collabo's in the form of MKz, all produced by Nhigs. Together with his homie Bloodshuteye he kept on writing new tracks and they still do. Local and a lack of possibilities to develop his skillz, made him decide to move to Rotterdam (2000) where he tried to combine studies with the rap game. Listening to Jedi Mind Tricks and Brooklyn Academy inspired him to take a shot on a higher level. This affected his study career but nevertheless he grew very fast in his real ambition: MCing.
Writing rhymes and gathering the right connections he began an unbroken cooperation with DockStreet Productions. Through C.C. he met other hip hop active peepz, G.O.D. and VSOP. Hooking up and doing collabos with Excellent, G.O.D. Ablaze permitted DutchMan to make his thing more nationwide also by touring with VSOP and dropping his solo joints like Self Esteem feat. Grimlock. Airplay and positive comments on the famous HipHop 120 radio show, in combination with a strong spirit, strengthened him to go for his first EP. Rockin' mics on dark & ruff beats he's on edge to let y'all know…
Tracks
Dutchman feat. Ablaze & Bloodshed – The Foursome
Dutchman feat. Excellent – Somehow
Dutchman feat. Goblin – Rhymeforce
Dutchman feat. Grimlock – Self Esteem
Dutchman – U Can't Tho
All tracks produced by: Dockstreet Productions Rotterdam.
Except Somehow produced by Excellent
Cutz on 'U Can't Tho' by MP of VSOP
Meer Achtergronden